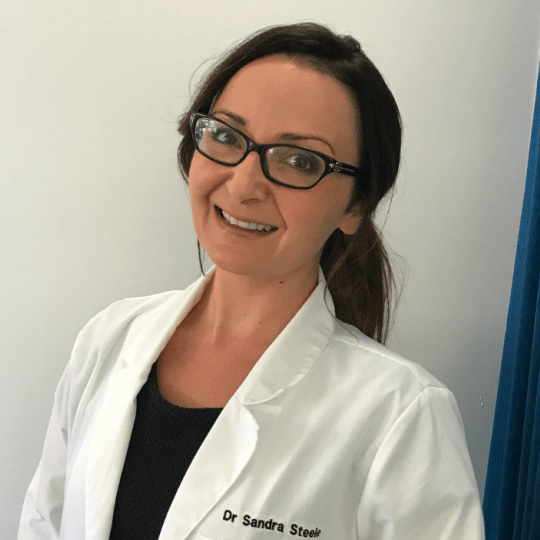 Bsc (Hons.), MBBS, FRACGP,MMed (Skin Cancer) UQ
Consulting Wednesday to Friday and One Saturday in a month at Annerley

Dr Steele has dedicated her career to skin cancer diagnosis and management since starting her GP fellowship training in 2012. 
Dr Steele completed a Bachelor of Science (Biology) in 2005 at Queen's University, Kingston, Ontario, Canada before graduating from Medical School at University of Queensland in 2009. She was awarded her fellowship of the Royal Australian College of General Practitioners in 2014. During her time in far north Queensland, she completed 12 months of extended-skills training in Skin Cancer Medicine and Management in 2013 and 2014.
In 2020, Dr Steele completed a degree of Masters of Medicine in Skin Cancer at University of Queensland.
Dr. Steele is dedicated to life-long learning, and has been awarded a number of diplomas and certifications, as well as participated in many educational workshops:
Australasian Dermatology Diploma, Australian Institute of Dermatology (2011)

Certificate of Dermoscopy: Skin Cancer College of Australasia (2013)

Certificate of Skin Cancer Medicine & Management: Skin Cancer College of Australasia (2014)

Professional Diploma of Skin Cancer Medicine: HealthCert (2017)

Masters of Medicine in Skin Cancer Medicine, University of Queensland (2020)
In addition, Dr Steele has a special interest in cosmetic medicine and has attended training and workshops targeting the cosmetic and rejuvenation side of skin medicine.
Dr Steele is especially proud to have become an Australian Citizen in 2015, and though she very much appreciates the impact of the sun in this beautiful country, she is happy to call sunny Queensland home!